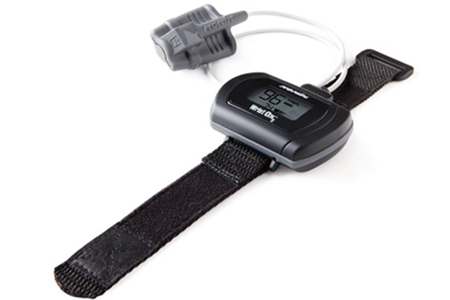 Nonin 3150 Pulse Oximeter
Description
This product can be purchased directly from Nonin by contacting oem@nonin.com
Engineered with Nonin Medical's proven PureSAT® SpO2 technology, the WristOx2 Model 3150 with
Bluetooth® Low Energy (BLE) delivers highly accurate readings in the widest range of patient populations
and settings. The WristOx2 Model 3150 with BLE is ideal for applications including ambulatory
monitoring, remote wireless monitoring and overnight studies—providing the versatility and reliability
that clinicians expect from Nonin. The most advanced wrist-worn pulse oximeter available, the
WristOx2 Model 3150 with BLE features improved performance and reporting capabilities, including
enhanced connectivity and increased memory storage. The ergonomic design and Bluetooth® wireless
technology eliminate the inconvenience of bulky cables and provide patients with increased comfort and
independence—making this pulse oximeter ideal for ambulatory monitoring.
Usage
Pairing Instructions:
The Nonin 3150 is pairable for several seconds after it is powered on.
Insert finger and validate that the watch is starting up
Nonin 3150 should be pairable
Measurement Instructions:
Assuming the Nonin 3150 is paired
Insert finger
Measurements should transmit automatically