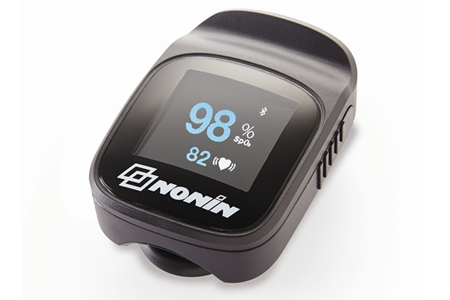 Nonin BTLE Pulse Ox 3230
Description
This product can be purchased directly from Nonin by contacting oem@nonin.com
Product Highlights (Taken from Nonin's website):
Spot-on Accuracy
Features algorithms specifically for patients with challenging conditions such as low perfusion, dark skin tones and motion
Quickly provides clinically proven accurate SpO2 and pulse rate readings from small to large fingers, good to low perfusion, and dark to light skin tones
Large, patient facing screen
Simple, easy to understand information
Added content in the datastream to help support the patient
Proprietary CorrectCheck™ technology advises the patient when the finger is not placed properly in the device
Spot-on Connectivity
Easily integrates into most telemedicine hubs via Bluetooth Smart wireless technology
Spot-on Usability
Easy-to-read large display for patient use
High quality product with proven durability for any environment
Long battery life – Model 3230 oximeter allows for up to 2,200 spot checks on two AAA batteries
Environmentally Safe
Meets the Restriction of Hazardous Substance Directive (RoHS) standard to minimize the introduction of hazardous materials into the patient environment.
Usage
Pairing Information:
Insert finger and wait for the screen to light up.
The Nonin 3230 pulse ox should become pairable
Measurement Information:
Assuming the Nonin 3230 is paired
If just paired, remove finger and wait for the screen to shut off
Reinsert finger to send a measurement.